Super Stroke Solenoids
The Super Stroke Solenoid is a useful, cost-effective innovation by Geeplus engineers that provides semi-proportional movement over a surprisingly long stroke
Learn More About the Super Stroke
Super Stroke Solenoids
Long Linear Stroke, Cost-effective Semi Proportional Control
The Super Stroke Solenoid is an innovative development using the tubular solenoid design with a modified pole-piece, enabling a longer stroke. The longer stroke and linear force characteristic make these solenoids suitable as a replacement for use in a wide range of applications. 
The Super Stroke Solenoid can be used as a proportional device (see proportional solenoids data for an explanation of proportional operation) for proportional force or position control.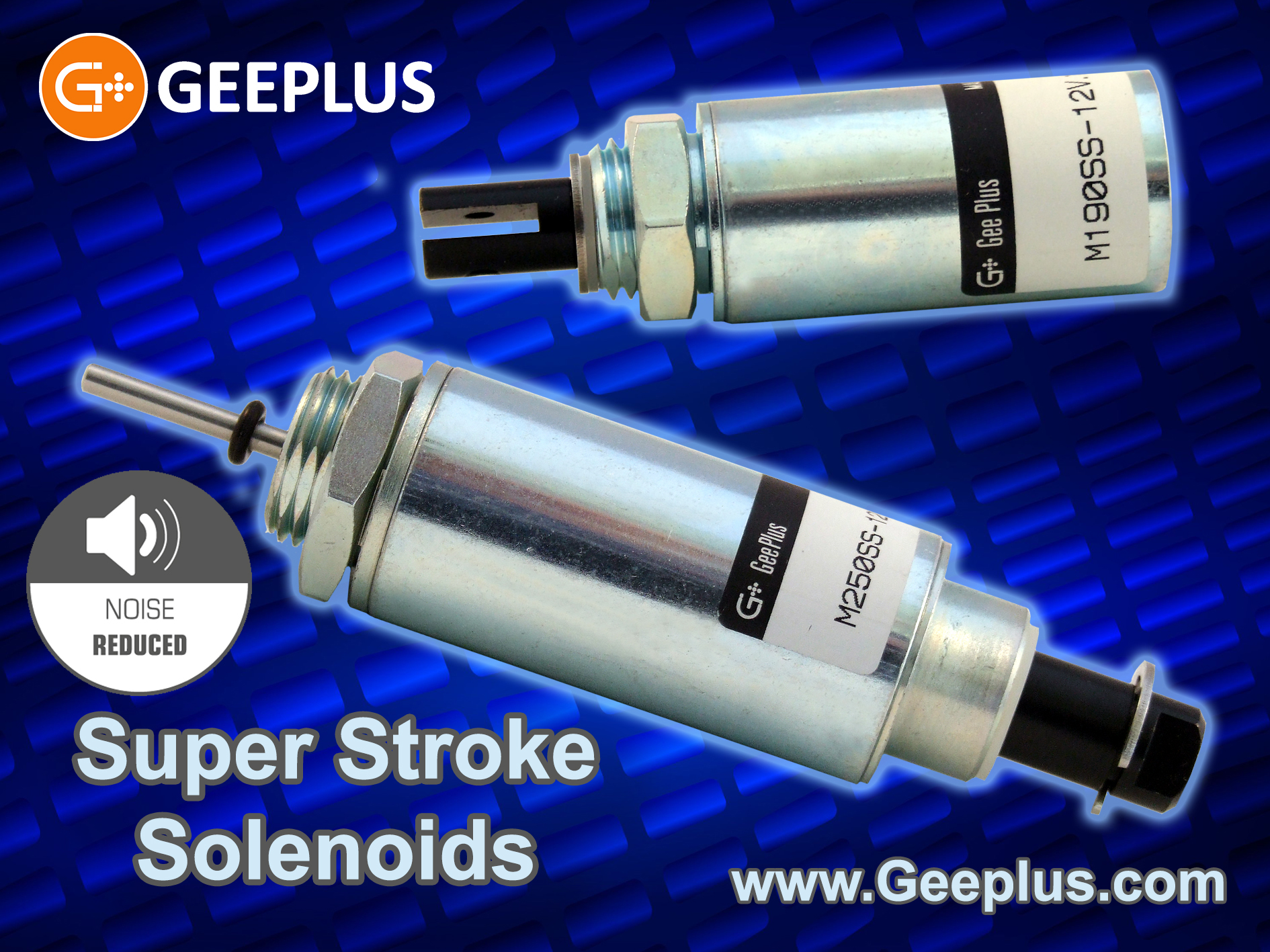 NOTE: Because each application is different, requiring varying levels of resistance to attain semi-proportional movement, a spring is not included with these parts. Our engineers recommend a simple spring kit to choose the correct spring for each application.
Characteristics of our Super Stroke Solenoids:
• Stroke up to 35mm (depending on type)
• Optimized for long strokes
• Holding force up to 24N (in endposition, energised)
• Life cycle up to >2 million cycles
• Only available in Metric "M" thread; no SAE version 


Offices in Europe | USA | Asia

+44(0)208 6567788
Geeplus Europe
Worldwide Customer Service
+1 803 549 6422
Geeplus Inc.
South Carolina (USA)
+81 45 662 9705
Geeplus Asia
Yokohama, Japan
Contact Geeplus
We're here to help - Contact Geeplus today!
Next Generation Motion Control Solutions!
Geeplus Headquarters:
Triple Two Centre, Tannery Close Beckenham, BR3 4BY, UK
©Geeplus Holdings 2019, All Rights Reserved
Privacy Policy


Offices in Europe | USA | Asia