Actuator Applications
Geeplus products can be found in a very wide range of applications throughout the world; here you can find a number of everyday examples.
Geeplus solenoids, voice coils and other electromechanical devices are used to control and stimulate movement in advanced and everyday actuator applications in hundreds of industries around the world. Our talented team of engineers specialize in creating and providing cost-effective solutions for a myriad of actuation and design issues. If we can help you to solve a problem, we'd love to hear from you!  
Medical Applications

Because of the precision, control and reliability required in life-sustaining medical equipment, Geeplus has found a niche as the worldwide leading supplier of actuators in ventilator applications. Our customized voice coil actuators are found in a healthy percentage of high end medical ventilators today because, well, they are frankly the best in the world–or so we're told by the engineers that design the most advanced ventilator machines on the market today.
Essential Benefits and Characteristics
Very low hysteresis is a common requirement for actuators used in advanced medical equipment to facilitate extremely precise and repeatable flow or pressure control. Geeplus incorporates flexure bearings and rolling bearings into select VCAs, combined with an extremely rigorous testing process and 100% traceable test results in our in-house manufacturing process to consistently surpass the level of performance and quality required.
Various Medical Uses
Additional medical applications where Geeplus products are frequently found include metering and dosing in medical pumps, blood analysis/handling equipment, cleaning and sterilization machinery, advanced ambulance bed mechanisms, X-ray beds, bone density analysis machines, tactile sensitivity measurement devices, heart valve testing equipment and more. 
Precision control, exceptional reliability, low noise and small/lightweight capabilities are all major benefits here. Learn more about Geeplus products in the medical industry in this brief video (content continues below):
Paper, Mail and Currency Sorting / Handling

Rotary solenoids are ideal for use in diverter gates for mail, package or paper handling, where fast operation and a high cycle life may be required. In such applications, our solenoids are used to divert or sort items into different containers, separated by any number of factors.

For large mail and package handling equipment, a 'Pick & Hold' circuit may be helpful to stabilize against voltage and temperature fluctuations
High speed and a long life cycle are also typical demands for currency sorting applications. Geeplus designs extremely fast, highly reliable solenoids with a life of >100M cycles for money sorting machinery, due to the risk of financial loss. 
Additional Sorting & Handling Applications
• Cash handling
• Coin handling/sorting
• Bank note sorting
• Paper handling
• Sheet material sorting
Security/Access Control
Various Geeplus linear and rotary solenoids can be found in electric locking systems around the world. Solenoids are robust devices that are often customized as needed by our team of engineers for use in systems that control access to property, valuable goods, money and even sensitive information.
More Locking & Security Applications: 
• Industrial/electronic door locks
• Key handling systems
• Transportation Access
• Aviation: Airplane Doors (Part 21 Certified)
• Safes
• Furniture locks
• Wheel locks
• Personnel and baggage scanning
• Turnstiles
Optics and Imaging

Some of our tiny solenoids can be found in optic and imaging devices–for instance, optical beam shutters that effectively block beams of light as needed. Using the same principle, Geeplus solenoids are also found in applications controlling laser movement.
Our mini bistable rotary solenoids are ideal in these applications due to their low power consumption and heat dissipation, as well as the ability to hold in position with no power applied. Our engineers have designed some of these solenoids to be decidedly cost effective in volume applications.
Similar Application Include: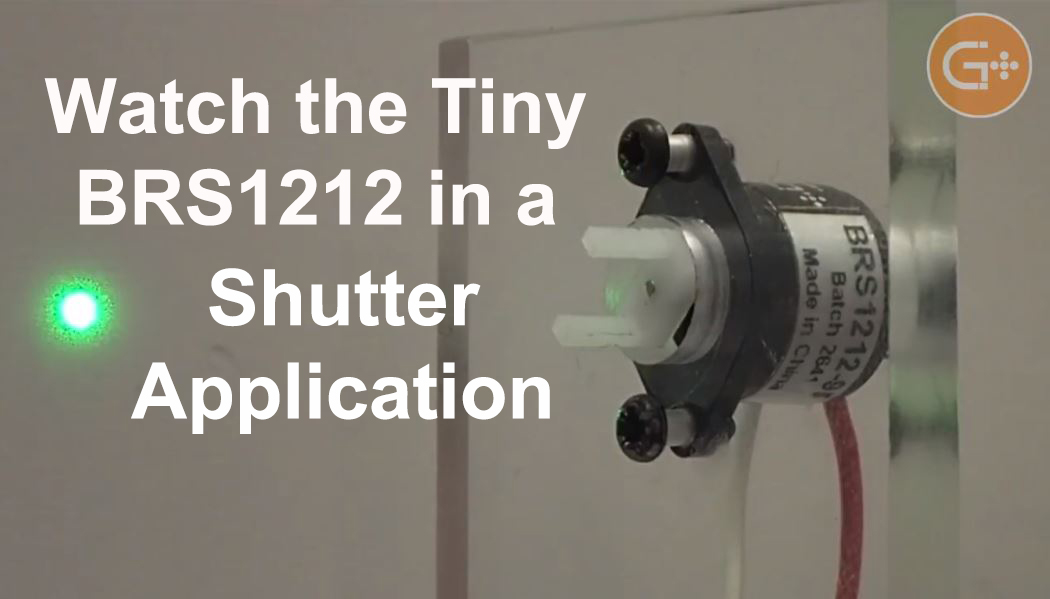 • Laser/optical equipment (used to redirect laser as opposed to shutting down the laser source).
• Shutter applications
• Focusing mechanisms
• Steering mechanisms
• Thermal imaging (including security, medical (fever scan), industrial (checking for hotspots))
Elevator Doors

Geeplus products can also be found controlling movement in elevator doors. Robust design, powerful control and quiet operation in particular are useful benefits out of a top-quality Geeplus solenoid here.
Our Super Stroke Solenoid–designed by Geeplus engineers to provide cost-effective long stroke, quiet, semi-proportional control–has been popular in applications such as these. 
Textile Machinery

Geeplus solenoids also control movement in various industrial textile machines, allowing for the automation of tasks such as fabricating, processing, weaving, spinning, dying, and finishing an assortment of materials, ranging from yarn and thread to plastics.
Vending Machines

Geeplus provides a number of different solenoids that are used in vending machine applications, implemented to automatically release items such as drinks and snacks to a customer. 
We offer a number of top quality solenoids that function with very low power consumption, making them perfect for use in vending.
 Valves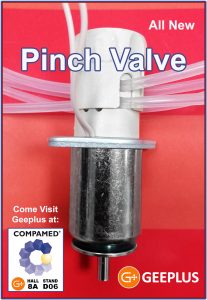 Geeplus solenoids are also used in a variety of valve applications, where the solenoid's plunger is used to control the flow of fluid or air. In the Geeplus Pinch Valve shown, when the solenoid is energized, the plunger retracts, closing the valve. When power to the solenoid is cut, the plunger is released, opening the valve again.
Proportional Options for Greater Control
In some cases, a greater degree of control is necessary than simply opening and closing the valve. For these valve applications, a proportional or semi-proportional solution is often implemented, where the armature moves in proportion to the power of the current. 

Vibration Applications
There are a number of applications where vibrating motion is required, for which simple solenoid actuators are not ideally suited.
While moving coil actuators are usually suitable, they are often too costly to be realistically implemented. For these applications, Geeplus offers simple bidirectional vibrating actuators to address such requirements.
Vibration Applications Include:
• Laboratory Equipment
• Massage Equipment
• Tattooing Machinery
• Adult Devices/Toys
Endless Applications
The uses and applications for Geeplus actuators are only limited by the constraints of the imagination. Any device or machine that requires movement/motion control is a potential application for a Geeplus product. Take a look at just a few more that we've successfully implemented.
Instrumentation
Miscellaneous Laboratory Equipment
Alcohol Meters
Chromatography Machines
Personal Shopping Scanners (Supermarket devices, locked in housing by a solenoid when not in use)
Utilities
Water Treatment/Dosing (Pump)
Electrical Metering
Gas Metering
Transportation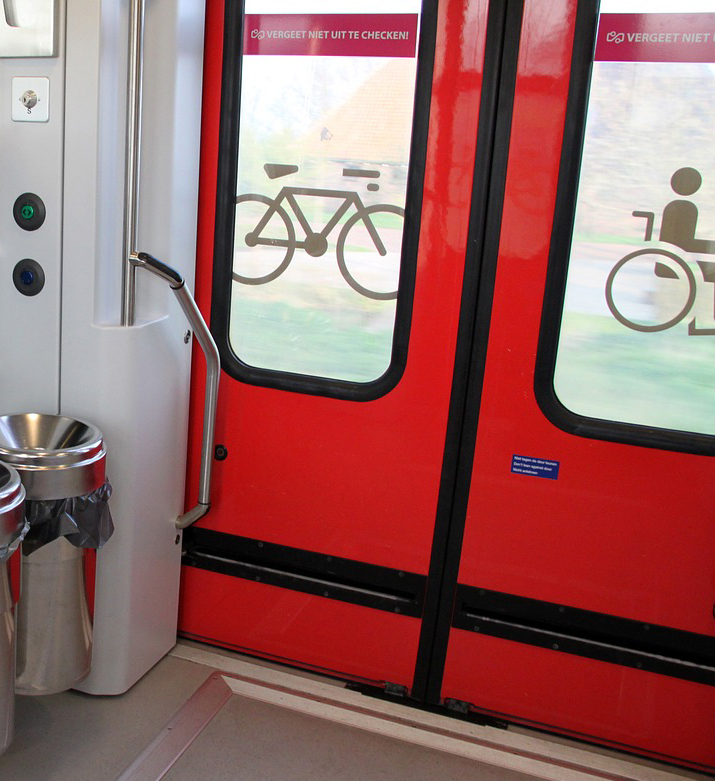 Vehicle Doors/Access (Trains/trams, etc.)
Gas Analysis (Shutters for testing carbon monoxide in tunnels)
Motor Sports (Valves and lock mechanisms)
Materials Handling
Pallet Stacking
Process Automation (Manufacturing lines, locking, sorting, gripping (replacement for pneumatic actuation)
Checkweighing (Precise sorting; dispenses exact weights)
Agriculture
Locking mechanisms (Farm equipment)
Grain analysisIrrigation equipment (Automatic/programmed)
Fruit & Vegetable Sorting
Communications
Rotary Switch Operation
Have an Idea or Application?
We're all ears; contact us todayand our talented team of engineers will get to work finding the most cost-effective solution! 


Offices in Europe | USA | Asia

+44(0)208 6567788
Geeplus Europe
Worldwide Customer Service
+1 803 549 6422
Geeplus Inc.
South Carolina (USA)
+81 45 662 9705
Geeplus Asia
Yokohama, Japan
Contact Geeplus
We're here to help - Contact Geeplus today!
Next Generation Motion Control Solutions!
Geeplus Headquarters:
Triple Two Centre, Tannery Close Beckenham, BR3 4BY, UK
©Geeplus Holdings 2019, All Rights Reserved
Privacy Policy


Offices in Europe | USA | Asia