Press Releases
Keep up with Geeplus news around the world!
FOR IMMEDIATE RELEASE
New Geeplus Test Rig Makes Data Capture Easier Than Ever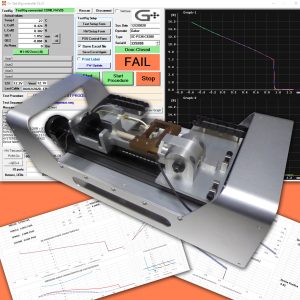 Beckenham, UK – Geeplus has developed a new desktop Test Rig designed to provide valuable information on a wide range of electromechanical products with the simple click of a button. This innovative apparatus supplies the user with the most reliable and precise information available, saving both time and money in both production and pre-production environments.
Simple, Repeatable and Economical
Simple to set up and operate, with connectors that are quickly and easily fitted to each component, the new Test Rig from Geeplus saves key data into a simple Excel file. This enables engineers and quality control personnel to then manipulate the data acquired by the rig for applications requiring the most complex of parameters.
The Test Rig enables very repeatable measurements with a wide dynamic range. The software even captures data from components that fail, making fault-finding faster and more economical. The software for the new rig has also been created in high resolution, providing the user with well-defined visual results as well.
Contact us any time for pricing or assistance.
Geeplus is a worldwide leader in the design and manufacture of precision electromechanical actuators. You can find Geeplus online at www.geeplus.com, as well as on social media on LinkedIn, Facebook, and YouTube.
###
For more information, feel free to contact us, or simply fill in the brief form below!


Offices in Europe | USA | Asia

+44(0)208 6567788
Geeplus Europe
Worldwide Customer Service
+1 803 549 6422
Geeplus Inc.
South Carolina (USA)
+81 45 662 9705
Geeplus Asia
Yokohama, Japan
Contact Geeplus
We're here to help - Contact Geeplus today!
Next Generation Motion Control Solutions!
Geeplus Headquarters:
Triple Two Centre, Tannery Close Beckenham, BR3 4BY, UK
©Geeplus Holdings 2019, All Rights Reserved
Privacy Policy


Offices in Europe | USA | Asia