Press Releases
Keep up with Geeplus news around the world!
FOR IMMEDIATE RELEASE
Mini Push-Pull Solenoids From Geeplus Offer

High Force Using Low Power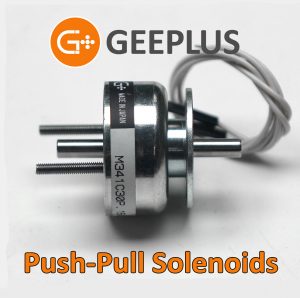 Beckenham, United Kingdom – Ideally suited to remote or renewable energy applications where rechargeable or standard batteries or capacitors are used, the new Geeplus range of mini Push-Pull solenoids provides a robust solution for a number of applications requiring a significant holding force using minimal power.
The intelligent magnetic concept designed into the solenoids allows a very high holding force at a comparably low power input offering a stroke up to 30mm, a holding force up to 2000N and depending on size and load, fast response time with switching times of <5ms.
In temperature sensitive situations, such as blood or chemical transfer, these mini push-pull solenoids benefit from extremely low heat dissipation. Similarly, where high reliability is a factor, the solenoids have high life expectancy of more than 50 million cycles.
Mounting the devices is via threaded holes in the base plate. Sizes start from 11mm diameter.
Geeplus is a worldwide leader in the design and manufacture of precision electromechanical actuators. You can find Geeplus online at  www.geeplus.com, as well as on social media on LinkedIn, Facebook, YouTube and Google+.
###
For more information, feel free to contact us, or simply fill in the brief form below!


Offices in Europe | USA | Asia

+44(0)208 6567788
Geeplus Europe
Worldwide Customer Service
+1 803 549 6422
Geeplus Inc.
South Carolina (USA)
+81 45 662 9705
Geeplus Asia
Yokohama, Japan
Contact Geeplus
We're here to help - Contact Geeplus today!
Next Generation Motion Control Solutions!
Geeplus Headquarters:
Triple Two Centre, Tannery Close Beckenham, BR3 4BY, UK
©Geeplus Holdings 2019, All Rights Reserved
Privacy Policy


Offices in Europe | USA | Asia